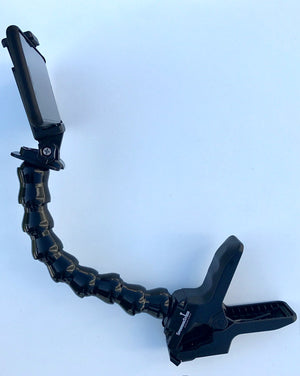 Spinning Stick
Welcome to the world of personalized exercise using your most personal device, your phone. This product comes fully assembled, so just toss the stick into your gym bag, purse or suitcase and then web-cast any workout, wherever you are. The spinning stick ensures your workout, on your schedule when and where you choose.
This durable, ultra versatile, light weight phone mount can be used to secure your device to your bike or other clampable object. It is intended to support your spinning work out needs by anchoring your mobile device comfortably and securely, exactly the way you like it. 
- The Spinning Stick is 15 inches top to bottom.
- The device clip opens to fit all phones, spanning 6 inches.
- Made of a strong, plastic build, and a blend of milled aluminum and stainless steel at the hinges and clamps. 
- Easily bendable to preferred position and secured.
- Comes ready to use, no assembly required.